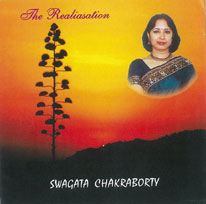 A devoted talented artiste in the field of musical world is Swagata. From the very childhood she started her musical career.

Swagata is a science graduate of physics (Hons.) of Calcutta University. In the stream of musical arts she completed her (B.Muse ) course from Prachin Kalakendra, Chandigarh. Due to her passion in vocal music, she moved for admission in Rabindra Bharati University of Calcutta to do master degree in Hindusthani vocal classical music.There she secured top position, first class in M.A. examination. She was awarded with certificates medal and other prizes for her bright achievements .
Not only the vocal musical stand,Swagata completed the diploma in Kathak dance. She is a Nritya Probhakar of "Prayag Sangeet Samiti" of Allahabad.
In the course of her vocal music development, she acquired knowledge of three different Gharanas from three eminent Gurus of Kheyal section. She learnt the Benaras singing style from her Guru, honourable Pt. Mohanlal MLshra.The next Guru, she availed is Pandit Samaresh Chowdhury, who is a disciple of world famous Pandit Ravi Shankar.There she learnt the Senia Gharana style from Pandit Samaresh Chowdhury. Specially she was trained in instrumental pattern Sargam and Taan from him. She also met Sangeet Acharya Araiya Ranjan Banerjee to take lesson in Bishnupur Gharana and x dean of Rabindra Bharati University. For further­ance of her vocal melody Swagata attended lesson in Thumri, Kajri, Chaity, Dadra, Hori Tappa etc. in Benaras style from Bidushi Purnima Chowdhury, who is a top grade artiste of Benaras Gharana style and is famous in India and abroad. Swagata has learnt traditional style Purap - (Eastern region of India) of Benaras Oharana of above items in lively rhythmic pattern along with Tabla,
Gayaki Presentation :
Swagata performed in various prestigious programmes in India and abroad. In India she performed thrice in " Subhas Sanskrite Parishad" , Calcutta, She presented her sweat voice in Kalakendra, Calcutta. Her vocal melody was heard in "Pandit Ramanarayan " programme organised by ANWESHA. She received profound thanks on the stage of ANTARA (Cultural organisation) programme organised by West Bengal Rajya Sangeet Academy. She also performed in programme organised by "Pandit Ravi Kitchlu Foundation" . She too took part in programme, organised by "Mehafil". She attended North Central Zone cultural Zone, Allahabad; programme organised by "Shristi" cultural organisation. She performed a cultural programme in Kharagpur I.I.T., in Subhra Baranl of Orissa and in Bihar Mahotsav, Patna.
Her relentless effort towards development and praiseworthy performaces reached abroad participating in different cultural functions. She performed in Durga Puja festival programme of Kallol,(N.J) U.S.A., similar Garden state Puja (Jersey Clty), Garden state Cultural Association (Plain field, N.J). She performed in East Coast Durga Puja Association, New York. Same is in Hindu Temple (Albany), Long Island, Philadelphia, Bangla Desh Hindu Mandir, Elamhurst Ganesh Temple (N.Y.), Bangla Desh Hindu Kalyan Samiti Quebek, Ananda Sandhya (N.J.), Chandayan (N.J.), New York University, Kalvant centre of music & dance. She performed in Harathi Bishwa (N.J.), Bridge Water Temple, Arsha Bodhst Temple. She also performed nicely in Gandharva festival (N.J.). At a distance in California, pensylvania, orlando she successfully pleased the music lovers. In the year 2008 Swagata presented her enchanting sweat music in Banga Sanskrit! Sarnmilan, Toronto. Her performances are appreciated several times in New York and New Jersey. On the stage of Newyork, New Jersey and California, she performed with renowned "Padmabhusarf' Shri Manna Dey.
Notable Performances :
All India Radio
Doordarshan
Dover Lane, Calcutta
Performance with Manna Dey in New York, New Jersey and California
New York University School of Performing Arts
Banga Sammelan, NABC 2008, Toronto, Canada
Sangeet Academy, Calcutta
HMV and Ravi Kichlu Foundation, Calcutta
Dept. of HRD, Govt. of India organized Bihar Mahotsav, Patna
Musical Conference, Allahabadv Uttarpara Sangeet Chakra, West Bengal
Sangeet Samaj, Calcutta
Young Talent Conference by Subhas Sanskriti Parishad, Calcutta
Spring Fest, IIT Kharagpur
Anniversary Celebration, DRDO, Balasore
CAB, NY
Chandayan, NY
Kalavant, NY
Marathi Vishwa, NJ
Kallol, of NJ, USA
GSCA of NJ, USA
Gujrati Samaj, NY, USA
IAPA 2009 USA
Songs :

Hindi Songs

Bengali Song

Kheyal

Hori
Additional videos are available by searching 'swagata chakraborty' on youtube